Rent our studio in
Enschede
Renting our studio in Enschede for a one-off event is sometimes difficult for freelance choreographers, personal trainers, or others who occasionally need a studio. Talentfabriek 053 in Enschede has the solution for you.
At Talentfabriek 053 you can rent our studio in Enschede at one of the coolest locations in Twente. In the middle of the old textile factory Spinnerij Oosterveld from 1911, you will find our studio with industrial design. A suitable location to take beautiful photos during your workshop and very accessible (wheelchair friendly) for everyone. Your visitors are sure to be impressed!
De Spinnerij has its own restaurant, elevator and more than 250 parking spaces are available for people who want to attend a workshop.
You will undoubtedly make a big impression with your workshop, but we are convinced that our cool location ensures that the entire experience will be top-notch.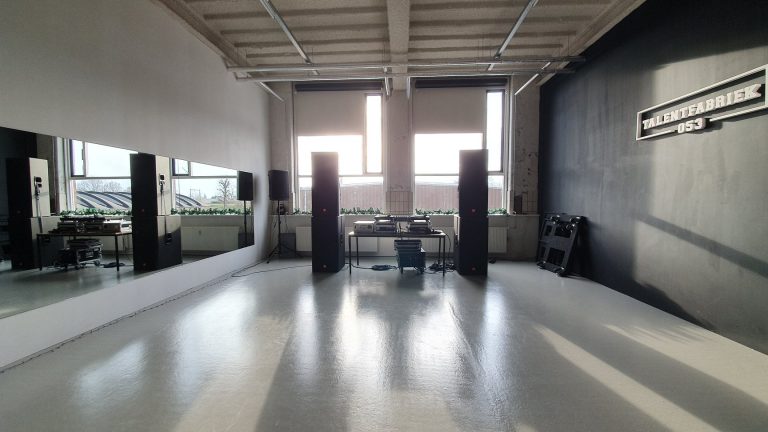 We are a professional dance school, so of course, you can rent our studio for professional dance workshops.
Possibly with a choreographer.
But you can also rent our hall for other activities.
For example, consider the following activities:
Yoga
Personal training
Zumba
Practice for an event
Videoclip
Fotoshoot
Kids birthday party
Unfortunately, the studio is not suitable for (disco) parties.
So are you a choreographer, personal trainer or do you have another profession where you occasionally need a studio? Then this is the solution to your problem.
The location can be rented per hour and costs €35 per hour. Contact us for more information about renting our hall in Enschede.
In addition to renting a room at Talentfabriek 053, you can also hire us for a workshop. You can find more information about this on our workshop page. 
Question about room rental?
Let us know
need help?
questions
address